Home
›
Apps
[UPDATED V0.0.7]Pushover App
Pushover notifications
With Pushover notification you can send notification to your mobile device using the Pushover service.
You can find the app in the Homey app store or follow this link.
https://apps.athom.com/app/nl.tonversteeg.pushover
How to setup

1. Go to
https://pushover.net/
and log in or create an account.
2. Click on Apps & Plugins in the top bar and create a new application for Homey
3. Grab your user & app token key and paste them on your Homey under Settings>Pushover Notifications and save.
4. You can now use Pushover in your flow cards.
Available cards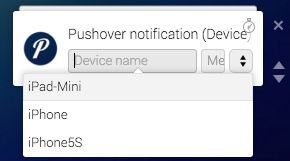 Current version:
0.0.7
change log:

V 0.0.7
- Added Insight support
- Improved empty message checking

V 0.0.6
- Error checking improved
- validation user account
- preference to disable/enable led ring upon sending notification.
- Using MatjaLipu's http.min library instead of request library which makes the app 357.8KB instead of 3.2MB

known bugs:
none