Home
›
Questions & Help
Hacking a Fibaro double relay switch (FGS-222) => multiple tapping
Eternity
Member
Sorry for the weird discussion title, hope my explanation makes my question more clear!
At the entrance of my living room, I have a Fibaro FGS-222 double relay switch installed behind a double momentary switch.
In Homey I have a flow that responds to the FGS-222; relay ON to switch on my Hue lights (it activates a scene called Dim 1) and press again - relay switches to status OFF - to switch all Hie lights off.
Here you see these 2 flows:

The FGS-222 relay does not support double tapping or scene selecting... Bummer! But, I am trying to figure out a way to DIY :-)
I would like to add some extra options to this switch; if I press the momentary switch an extra time within a time frame, a new Hue scene can be called. If that time frame expires, the button works the old way; it will switch the lights off.
So, I created a timer called "WK - S2 timer" that runs 30 seconds and a variable called "WK S2".
I have it working, more or less. Problem is that it is slow. The response to the extra tapping of the switch seems delayed. Here you see the flows I created, allowing to switch the lights thru 4 Hue scenes and OFF again:
The first flow, which is activated by pressing the S2 switch once, Hue scene Dim 1 is activated: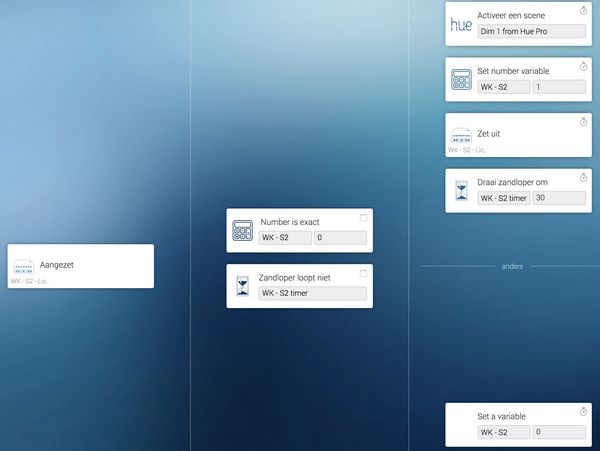 Pressing 2x, activates Hue Scene Dim 2:
Pressing 3x, activates Hue Scene Willekeurig 1: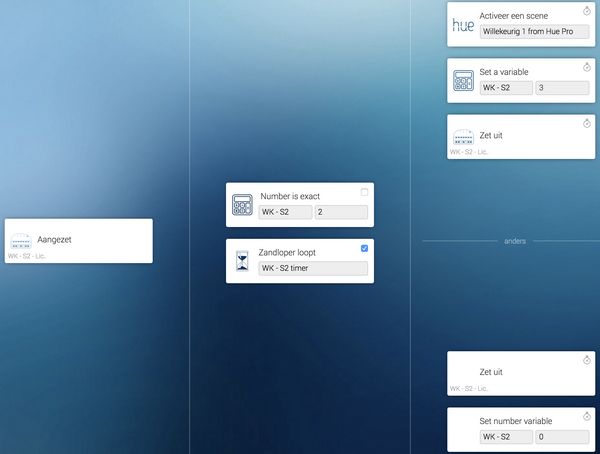 Pressing 4x, activates Hue Scene Willekeurig 2: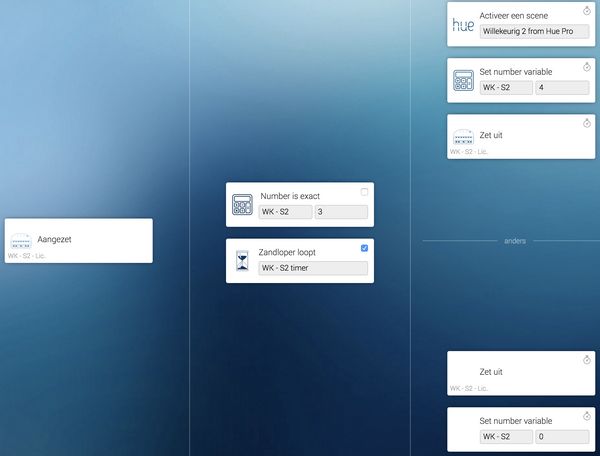 And the 5th press, switches the lights off: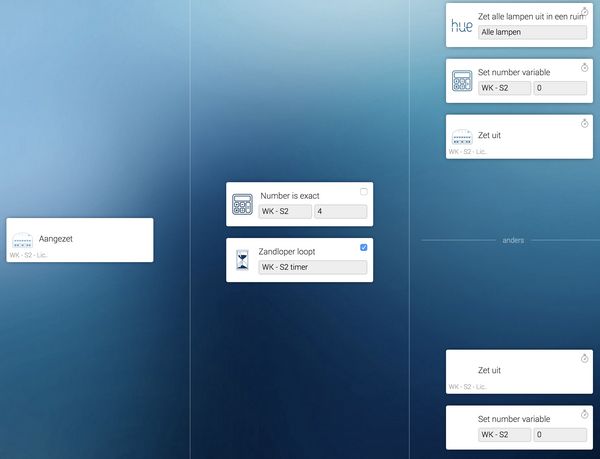 What do you guys think?
Any suggestions on the speed?
I would also like the double press work as a regular OFF command, if the timer is not running. So, when the lights are on, a single press switches the lights off.... How to add that in this setup?
Thanks!
UPDATEI now see I made an error with the variable. It resets to 0 every time a push the switch, so 0-1-0-2-0-3-0-4-0-I will start without the timer involved, to simplify things.
Tagged: