Home
›
Questions & Help
Why won't an experimental build be rolled back to stable when I reset my homey?
DaneeDeKruyff
Member
According to this dialog: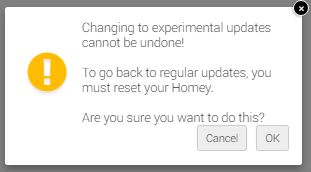 When I want to go back to regular updates, so no experimental, I have to reset my homey. Because the update to 0.8.30 broke z-wave for me I decided to reset my homey to change back to the stable track.
After the (full) reset I'm still on experimental version 0.8.30, even though I'm no longer on the experimental track...
I think the text on this dialog is a bit misleading, because to me, being back on the regular track implies I will have a regular build, and not a experimental one.