Home
›
Nederlands
Welcome to the Athom Community Forum! This is a place to share ideas, ask for help and discuss about Homey in general.
Please read
Welcome to the forum
to get started.
martijn101
Member
Beste Forum bezoekers,
Ik heb een probleem met de Fibaro motion sensor.
Ik had eerst 1 motion sensor, dat was geen probleem, ik heb de set nu geupgrade naar 4 sensoren.
Maar nu werkt het niet goed meer. De motion sensoren blijven hangen (hij blijft alarm geven dat er beweging is, ook is dit niet het geval)
Het gaat goed tot 2 sensoren daarna beginnen de problemen. Op het probleem op te lossen heb ik de fibaro plugin en ook de Homey. herstart maar het werkt niet. daarna zijn ook alle info van het sensoren weg. (om dit probleem op te lossen moeten de sensoren weer verwijdert worden opnieuw worden toegevoegd.)
Hebben jullie een oplossing om alle 4 de sensoren goed te kunnen laten werken?
Alvast bedankt.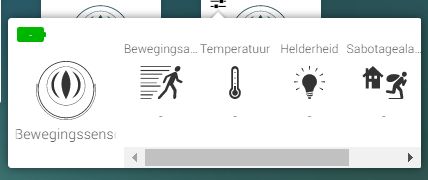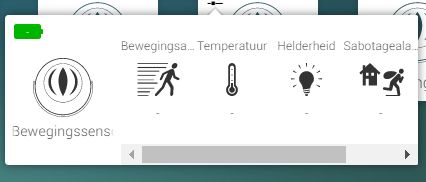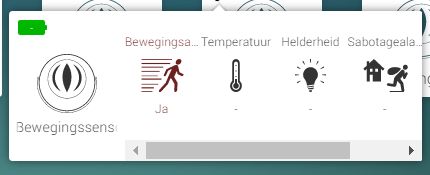 LOG:
2018-05-31T20:12:17.035Z2018-
Node[7]: Received application command for COMMAND_CLASS_SECURITY, data: 0x40
2018-05-31T20:12:17.036Z
Node[7]: [COMMAND_CLASS_SECURITY] {}
2018-05-31T20:12:17.036Z
Node[7]: [COMMAND_CLASS_SECURITY] [SECURITY_NONCE_REPORT] {"type":"Buffer","data":[242,113,40,114,240,126,252,51]}
2018-05-31T20:12:17.037Z
Node[7]: sendData to COMMAND_CLASS_SECURITY, params 0x80f2712872f07efc33
2018-05-31T20:12:17.041Z
Command[355] start: sendData
2018-05-31T20:12:17.042Z
ProcessSendData[353]: To node: 7 with data: 0x9880f2712872f07efc33 and txOptions: AUTO_ROUTE,EXPLORE
2018-05-31T20:12:17.061Z
Command[355] end: sendData
2018-05-31T20:12:17.100Z
Node[7]: Received application command for COMMAND_CLASS_SECURITY, data: 0x40
2018-05-31T20:12:17.100Z
Node[7]: [COMMAND_CLASS_SECURITY] {}
2018-05-31T20:12:17.101Z
Node[7]: [COMMAND_CLASS_SECURITY] [SECURITY_NONCE_REPORT] {"type":"Buffer","data":[243,226,186,151,200,240,158,245]}
2018-05-31T20:12:17.101Z
Node[7]: sendData to COMMAND_CLASS_SECURITY, params 0x80f3e2ba97c8f09ef5
2018-05-31T20:12:17.102Z
Command[356] start: sendData
2018-05-31T20:12:17.102Z
ProcessSendData[354]: To node: 7 with data: 0x9880f3e2ba97c8f09ef5 and txOptions: AUTO_ROUTE,EXPLORE
2018-05-31T20:12:17.121Z
Command[356] end: sendData
2018-05-31T20:12:17.171Z
Node[7]: Received application command for COMMAND_CLASS_SECURITY, data: 0x40
2018-05-31T20:12:17.172Z
Node[7]: [COMMAND_CLASS_SECURITY] {}
2018-05-31T20:12:17.172Z
Node[7]: [COMMAND_CLASS_SECURITY] [SECURITY_NONCE_REPORT] {"type":"Buffer","data":[244,255,21,177,144,57,67,210]}
2018-05-31T20:12:17.172Z
Node[7]: sendData to COMMAND_CLASS_SECURITY, params 0x80f4ff15b1903943d2
2018-05-31T20:12:17.173Z
Command[357] start: sendData
2018-05-31T20:12:17.173Z
ProcessSendData[355]: To node: 7 with data: 0x9880f4ff15b1903943d2 and txOptions: AUTO_ROUTE,EXPLORE
2018-05-31T20:12:17.192Z
Node[7]: Received application command for COMMAND_CLASS_SECURITY, data: 0x40
2018-05-31T20:12:17.192Z
Node[7]: [COMMAND_CLASS_SECURITY] {}
2018-05-31T20:12:17.193Z
Node[7]: [COMMAND_CLASS_SECURITY] [SECURITY_NONCE_REPORT] {"type":"Buffer","data":[245,45,115,227,69,161,246,36]}
2018-05-31T20:12:17.195Z
Node[7]: sendData to COMMAND_CLASS_SECURITY, params 0x80f52d73e345a1f624
2018-05-31T20:12:17.203Z
Command[357] end: sendData
2018-05-31T20:12:17.204Z
Command[358] start: sendData
2018-05-31T20:12:17.204Z
ProcessSendData[356]: To node: 7 with data: 0x9880f52d73e345a1f624 and txOptions: AUTO_ROUTE,EXPLORE
2018-05-31T20:12:17.223Z
Command[358] end: sendData
2018-05-31T20:12:17.258Z
Node[7]: Received application command for COMMAND_CLASS_SECURITY, data: 0x40
2018-05-31T20:12:17.258Z
Node[7]: [COMMAND_CLASS_SECURITY] {}
2018-05-31T20:12:17.259Z
Node[7]: [COMMAND_CLASS_SECURITY] [SECURITY_NONCE_REPORT] {"type":"Buffer","data":[246,180,229,197,229,227,120,118]}
2018-05-31T20:12:17.259Z
Node[7]: sendData to COMMAND_CLASS_SECURITY, params 0x80f6b4e5c5e5e37876
2018-05-31T20:12:17.260Z
Command[359] start: sendData
2018-05-31T20:12:17.260Z
ProcessSendData[357]: To node: 7 with data: 0x9880f6b4e5c5e5e37876 and txOptions: AUTO_ROUTE,EXPLORE
2018-05-31T20:12:17.284Z
Node[7]: Received application command for COMMAND_CLASS_SECURITY, data: 0x40
2018-05-31T20:12:17.284Z
Node[7]: [COMMAND_CLASS_SECURITY] {}
2018-05-31T20:12:17.285Z
Node[7]: [COMMAND_CLASS_SECURITY] [SECURITY_NONCE_REPORT] {"type":"Buffer","data":[247,179,8,75,146,225,205,178]}
2018-05-31T20:12:17.285Z
Node[7]: sendData to COMMAND_CLASS_SECURITY, params 0x80f7b3084b92e1cdb2
2018-05-31T20:12:17.296Z
Command[359] end: sendData
2018-05-31T20:12:17.297Z
Command[360] start: sendData
2018-05-31T20:12:17.297Z
ProcessSendData[358]: To node: 7 with data: 0x9880f7b3084b92e1cdb2 and txOptions: AUTO_ROUTE,EXPLORE
2018-05-31T20:12:17.315Z
Command[360] end: sendData
2018-05-31T20:12:17.821Z
Node[5]: Received application command for COMMAND_CLASS_SECURITY, data: 0x40
2018-05-31T20:12:17.822Z
Node[5]: [COMMAND_CLASS_SECURITY] {}
2018-05-31T20:12:17.822Z
Node[5]: [COMMAND_CLASS_SECURITY] [SECURITY_NONCE_REPORT] {"type":"Buffer","data":[248,225,151,116,92,28,159,203]}
2018-05-31T20:12:17.823Z
Node[5]: sendData to COMMAND_CLASS_SECURITY, params 0x80f8e197745c1c9fcb
2018-05-31T20:12:17.823Z
Command[361] start: sendData
2018-05-31T20:12:17.824Z
ProcessSendData[359]: To node: 5 with data: 0x9880f8e197745c1c9fcb and txOptions: AUTO_ROUTE,EXPLORE
2018-05-31T20:12:17.842Z
Command[361] end: sendData
2018-05-31T20:12:17.868Z
Node[5]: Received application command for COMMAND_CLASS_SECURITY, data: 0x816f18f61d1cdef7876b7e4469f1ce4bc0edcc26f83a143eaec4abbf8d
2018-05-31T20:12:17.871Z
Node[5]: [COMMAND_CLASS_SECURITY] {"Initialization Vector byte":{"type":"Buffer","data":[111,24,246,29,28,222,247,135]},"Properties1 (Raw)":{"type":"Buffer","data":[107]},"Properties1":{"Sequence Counter":11,"Sequenced":false,"Second Frame":true},"Command byte":{"type":"Buffer","data":[126,68,105,241,206,75,192,237,204,38]},"Receivers nonce Identifier (Raw)":{"type":"Buffer","data":[248]},"Receivers nonce Identifier":248,"Message Authentication Code byte":{"type":"Buffer","data":[58,20,62,174,196,171,191,141]}}
2018-05-31T20:12:17.888Z
Node[5]: [COMMAND_CLASS_NOTIFICATION] {"V1 Alarm Type (Raw)":{"type":"Buffer","data":[0]},"V1 Alarm Type":0,"V1 Alarm Level (Raw)":{"type":"Buffer","data":[0]},"V1 Alarm Level":0,"Reserved (Raw)":{"type":"Buffer","data":[0]},"Notification Status (Raw)":{"type":"Buffer","data":[255]},"Notification Status":"On","Notification Type (Raw)":{"type":"Buffer","data":[7]},"Notification Type":"Home Security","Event (Raw)":{"type":"Buffer","data":[0]},"Event":0,"Properties1 (Raw)":{"type":"Buffer","data":[1]},"Properties1":{"Event Parameters Length":1,"Sequence":false},"Event Parameter":{"type":"Buffer","data":[8]},"Event (Parsed)":"Event inactive"}
2018-05-31T20:12:17.889Z
Node[5]: Decapsulated frame from COMMAND_CLASS_SECURITY to COMMAND_CLASS_NOTIFICATION, data 0x05000000ff07000108
2018-05-31T20:12:18.663Z
Node[3]: Received application command for COMMAND_CLASS_SECURITY, data: 0x40
2018-05-31T20:12:18.663Z
Node[3]: [COMMAND_CLASS_SECURITY] {}
2018-05-31T20:12:18.663Z
Node[3]: [COMMAND_CLASS_SECURITY] [SECURITY_NONCE_REPORT] {"type":"Buffer","data":[249,192,25,90,9,145,147,184]}
2018-05-31T20:12:18.663Z
Node[3]: sendData to COMMAND_CLASS_SECURITY, params 0x80f9c0195a099193b8
2018-05-31T20:12:18.664Z
Command[362] start: sendData
2018-05-31T20:12:18.664Z
ProcessSendData[360]: To node: 3 with data: 0x9880f9c0195a099193b8 and txOptions: AUTO_ROUTE,EXPLORE
2018-05-31T20:12:18.683Z
Command[362] end: sendData
2018-05-31T20:12:19.001Z
Node[8]: Received application command for COMMAND_CLASS_SECURITY, data: 0x40
2018-05-31T20:12:19.001Z
Node[8]: [COMMAND_CLASS_SECURITY] {}
2018-05-31T20:12:19.001Z
Node[8]: [COMMAND_CLASS_SECURITY] [SECURITY_NONCE_REPORT] {"type":"Buffer","data":[250,104,90,217,42,128,36,192]}
2018-05-31T20:12:19.001Z
Node[8]: sendData to COMMAND_CLASS_SECURITY, params 0x80fa685ad92a8024c0
2018-05-31T20:12:19.002Z
Command[363] start: sendData
2018-05-31T20:12:19.002Z
ProcessSendData[361]: To node: 8 with data: 0x9880fa685ad92a8024c0 and txOptions: AUTO_ROUTE,EXPLORE
2018-05-31T20:12:19.021Z
Command[363] end: sendData
2018-05-31T20:12:19.072Z
Node[8]: Received application command for COMMAND_CLASS_SECURITY, data: 0x81941dce469c06f6588e677cd18161880a59e59cfa4a1a8e15210852bc
2018-05-31T20:12:19.072Z
Node[8]: [COMMAND_CLASS_SECURITY] {"Initialization Vector byte":{"type":"Buffer","data":[148,29,206,70,156,6,246,88]},"Properties1 (Raw)":{"type":"Buffer","data":[142]},"Properties1":{"Sequence Counter":14,"Sequenced":false,"Second Frame":false},"Command byte":{"type":"Buffer","data":[103,124,209,129,97,136,10,89,229,156]},"Receivers nonce Identifier (Raw)":{"type":"Buffer","data":[250]},"Receivers nonce Identifier":250,"Message Authentication Code byte":{"type":"Buffer","data":[74,26,142,21,33,8,82,188]}}
2018-05-31T20:12:19.102Z
Node[8]: [COMMAND_CLASS_NOTIFICATION] {"V1 Alarm Type (Raw)":{"type":"Buffer","data":[0]},"V1 Alarm Type":0,"V1 Alarm Level (Raw)":{"type":"Buffer","data":[0]},"V1 Alarm Level":0,"Reserved (Raw)":{"type":"Buffer","data":[0]},"Notification Status (Raw)":{"type":"Buffer","data":[255]},"Notification Status":"On","Notification Type (Raw)":{"type":"Buffer","data":[7]},"Notification Type":"Home Security","Event (Raw)":{"type":"Buffer","data":[0]},"Event":0,"Properties1 (Raw)":{"type":"Buffer","data":[1]},"Properties1":{"Event Parameters Length":1,"Sequence":false},"Event Parameter":{"type":"Buffer","data":[8]},"Event (Parsed)":"Event inactive"}
2018-05-31T20:12:19.103Z
Node[8]: Decapsulated frame from COMMAND_CLASS_SECURITY to COMMAND_CLASS_NOTIFICATION, data 0x05000000ff07000108
Tagged: