Home
›
Questions & Help
How do I use an AND/OR condition combined with a specific period?

Jon
Member
Hey guys. I need your help!

Suppose I'd like to let my sun screen move up if a certain condition (e.g. "wind gusts are too high") are lasting for a certain period, for example 20 minutes or longer.
My current Weather Underground sample rate is every 10 minutes, so the sun screen then needs to go up when at least 2 samples are above the treshold value of (in my case) 40.
The way it's implement now (see screenshot below, under the first 'OR' condition) is moving my sun screen up too frequently...

What is the
smartest
way to implement this?
Basically it comes down to this: run flow A only when condition B is met at least X times.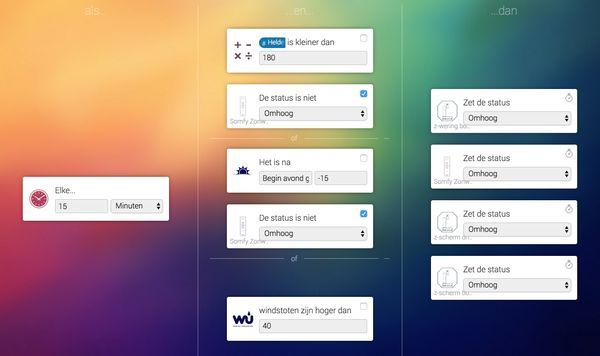 Tagged: