Home
›
Apps
Official
CommunityApp
SDK2
[APP] Trashcan Reminder 2.0

MrDutchfighter
Member
edited February 2018
in Apps
Hi all,
This is the official app thread of the Trashcan Reminder 2.0 app. The app got some improvements like support for SDK v2 and support for a dynamically global tag.
Homey will remind you to put the trash out! You can do this by providing a postal code, house number and country (NL/BE) or enter the collection pattern manually on the settings page of the app.
Supported Cities
Unfortunately not all cities work with the Trashcan Reminder, if you can find your house with one of the links below your house is supported:
If your city is not supported you can always add your schedule manually. You can add new cities yourself, but requests to add new cities aren't honoured. If you wish to contribute to the project (for example by adding support for a city). I would advise you to take a look at this explanation.
Supported Cards
There is one card that you can place in the "then" column. The card let's you check if trash type X is collected << today, tomorrow, day after tomorrow >> or if any type of trash is collected << today, tomorrow, day after tomorrow >>.

Supported Speech
You can ask Homey four type of questions regarding your waste collection:
When is the green container collected?
What is collected next monday?
Is the residual waste collected this friday?
Which type of trash is collected next?
App impressions

This flow is triggered when the first person is coming downstairs in the morning. If any type of trash is collected it Greats that person and tells him what type of trash is collected today based on the global tag.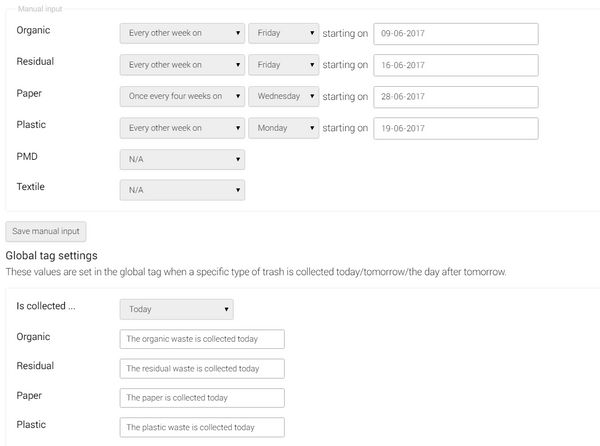 Tagged: