Home
›
Questions & Help
Use CloudMQTT as a broker for ownTracks or MQTT App

MennoVanGrinsven
Member
MQTT brokers are very interesting for IOT. Also there are some nice implementations for the use with Homey. For those Homey enthousiast who do not want to host a MQTT broker themselves (or do not have the knowledge to do so) there are some solutions (free of charge) in the Cloud.
Using a public MQTT broker for location purposes (such as ownTracks) is not really a good idea privacy wise. But CloudMQTT has a nice solution and their free plan is good enough for simple usage.
Their CuteCat plan (10 concurrent sessions and 10 kbit/s) is good enough for small JSON messages that are send by the ownTracks phone app.
This is a small tutorial to show how to setup CloudMQTT for use with my ownTracks homey app (or any MQTT app).
Once you made an account and created a server, you can see the server details in your control panel.

Select detail to further setup your MQTT server. You will see the page below: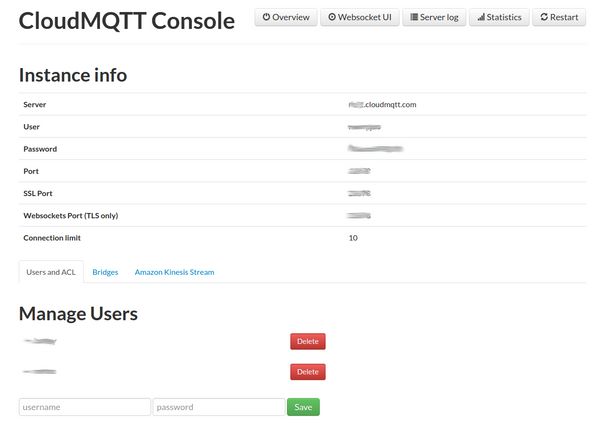 First you will need to add users to your MQTT server. Create a user for each device you want to connect. So a user for your Homey and each phone you want to use with ownTracks.
Once you created a username and password for your homey, you can add those data to the ownTracks or MQTT app: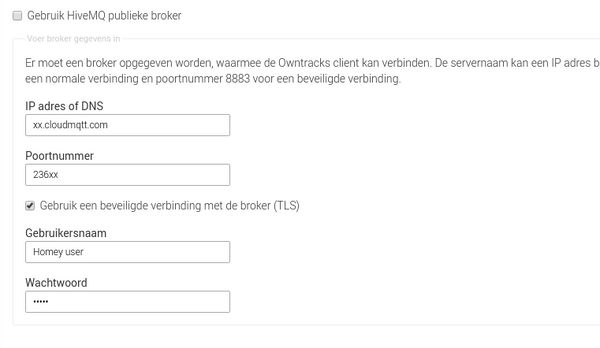 Copy the data from the CloudMQTT Sever field into the IP adres / DNS field in the ownTracks/MQTT settings page.
Use the SSL Port filed from the CloudMQTT settings as portnumber in the ownTracks/MQTT settings page.
Make sure you enable the "use a secure connection with the broke (TLS)" (checkbox should be checked).
Fill in the Username and Password fields with the data your just created for your Homey.
Now you should be able to connect to your CloudMQTT broker through a secure connection.
BUT you are not done yet. The users must be given access rights to
topics
.
To give the users access to the owntracks topics, select the User you want to give access to and enter
owntracks/#
in the
Topic
field. Also give the user both
Read Access
and
Write Access
. Press the
Save
button.
That should be all.