Home
›
Apps
[APP] Blowfish - Check battery levels, last updates capabilities and condition for lights in a zone.
Blowfish
This app adds some triggers and condition cards to your flows. You can:
Trigger if a device it's battery level drops below percentage X (With device name and battery percentage token)
Trigger if some capability hasn't been update for X minutes (With device name token)
Condition check if you left any devices on in a specified zone
Condition check if there is a device with battery below percentage X
Athom is going to add this to Homey its core soon (maybe 1.5.0, maybe later), for that reason the appstore submission isn't going to get aproved. To use the app until the functionaliteit is available in Homey's core, you can install it from Github using the CLI.
To use
Get the source from GitHub and install it using the athom cli.

https://github.com/swttt/com.swttt.blowfish
To do
App icon [DONE]
Add a card to check battery values [DONE]
Icon by Pufferfish by Catalina Montes from the Noun Project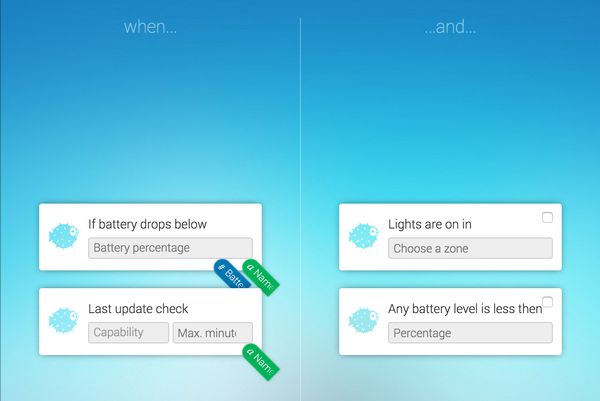 Tagged: