Home
›
Questions & Help
Multiroom home audio (Not SONOS)
Roephoed
Member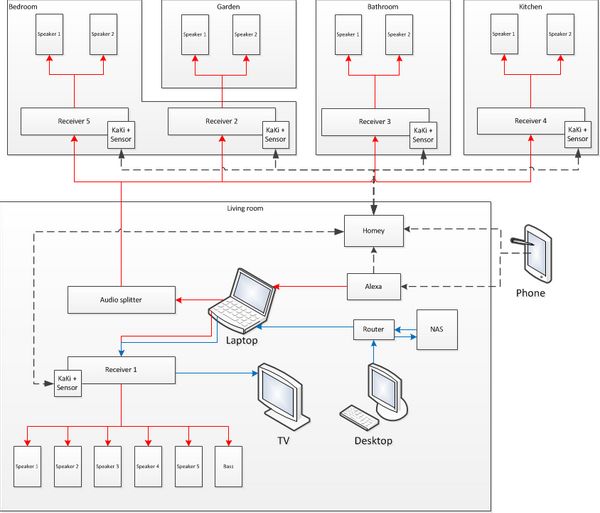 Hi All,
I am working on my own project and it includes multiroom audio in the whole house.
Currently:
1) every room has a (mini) receiver, connected with 2 speakers and is controlable with a KiKa (klikaanklikuit). Based on the input (movement detection) from fibaro sensors
2) the Living room has a receiver with 6 speakers (5.1 home theater system), also control with a Kika and fabaro sensor.
3) Homey controls all Kika, based on the input from all the sensors
4) A Alexa echo dot for speech and music (spotify)
5) My laptop as HTPC for movies (kodi), the news etc.
6) I do not have to switch between any inputs on my receivers. My main receiver only has IR, which is not controlable by Homey for reasons..
Enclosed a picture as to make it more clear (i hope), with in red all audio, in blue all video and with dashed lines as wireless communication.
The problem is as follows:
1) My laptop is only capable of 2.1 audio, thus atm my 5.1 is meaningless.
2) I need to let my laptop mix both inputs from laptop and Alexa, thus i can hear everything through the whole house. However, this means that when i am home, my laptop always have to be powered (electrical bill..)
What i would prefer:
A ) 5.1 audio in the living room, which means upgrading my laptop. I can also use my desktop for movies. However, when using the same setup with my desktop it will increase the required power even more, which I do not want. (see next preference)
B ) Only have to turn my HTPC on when i want to watch a movie. However, then I need to somehow direct the audio from alexa directly to all speakers, which i am unsure how i can do that..
Does anyone has an idea how to tackle this? All help is appriciated!
EDIT: A Typo