Home
›
Ideas & Suggestions
How-to: A heterogeneous smart home with Ikea Skeninge rail system

JaapPelt
Member
I like to make my rooms dynamic by having various zones of dimmed lights, spotlights, a bit of color and the main lighting. No matter how much I plan in advance, I used to change devices and wiring relatively frequently. When I discovered that the Ikea rail system had 3 different groups, I decided to try it out. The initial result was so positive that I decided to share my experience.
The Skeninge rail system from Ikea is exceptionally well suited to get started with your smart home. The rail system has 3 "power groups". Each individual lamp connected to the rail can be set to one of these groups using a switch in the side of the lamp-connector. This allows you to combine dumb lamps with smart lamps, dimmable with undimmable and allow you to switch different zones individually.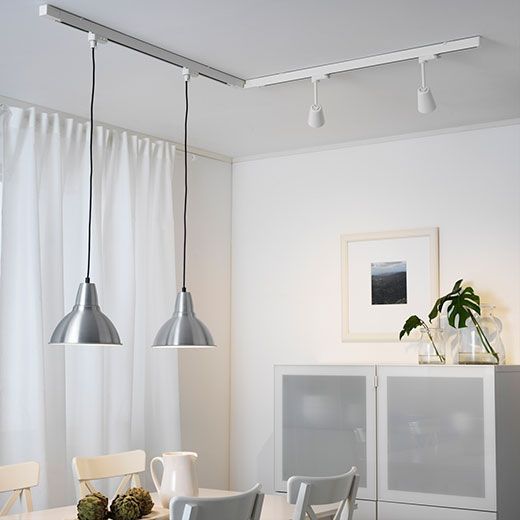 Source: Ikea.nl
Many of us began with Philips Hue as the first step towards a smart home. As you know, Hue lamps need to be "always on" to allow them to be controlled remotely. By having multiple groups, you can have an "always on" group just for your hue lamps while your other lamps still work with the light switch.
Fibaro and KaKu both have devices which can be placed in between the switch and light and will always turn the light on or off when the switch is flipped. This allows for 100% reliability by not relying on a wireless protocol or Homey. I strongly recommend to have the main light in each room in such a 100% reliable setup.
In addition, these in-between devices work well with an existing hotel-switch (two switches controlling one light).
Basic setup
For the hallway, I choose the following channels:
Always on (hue)
dumb wall switch
Fibaro switch.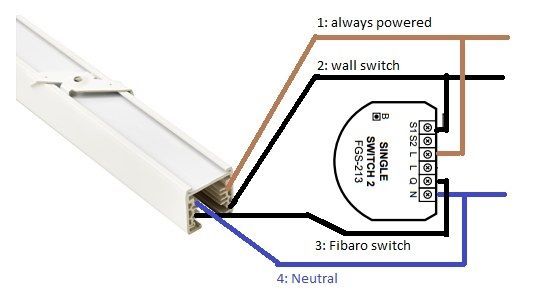 I particularly liked how efficient the wiring was. It ensured everything fitted in the ceiling pretty easily. You could argue that because it's all in the ceiling, this would be allowed in a rented home because you don't touch the switches.
The dumb wall switch group is nice to have for additional reliability, but the Fibaro group should completely replace it in the near future. I can recommend to use the fibaro double switch as it allows you have one hue channel and two independently switchable channels for more flexibility.
Advanced setup
For the living room, I'd like to have a dimmable, non-dimmable and hue channel to allow for more diverse scenes using non-dimmable spotlights, dimmable leds and Hue lamps for color.
Always on (hue)
dimmable
non-dimmable
Since I'm not aware of a device which can do dimming and has two channels, I will be using two separate devices: one in the ceiling, one behind the wall switch. I have an KaKu dimmer which I like to reuse. Since I need a second device for the non-dimmable channel, I have chosen a Fibaro switch because it is both a sender and a receiver
Option 1:
The diagram below shows the Kaku receiver behind the wall switch. The disadvantage is that it Kaku is a receiver only, so it cannot send a signal when it is switched on or off.

Option 2:
By using a Fibaro device behind the wall switch, the switch both send and receive signals and thus control the other channels via Homey for a more seamless experience. Alternatively, a double wall switch could be used to control the hue lamps using the second switch via Homey.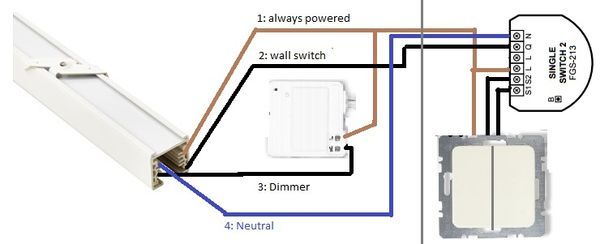 Conclusion:
I was surprised that an relatively simple Ikea system would be so well suited for smart homes. The different groups of the rail system allows the combination of older and newer devices seamlessly. You can swap out light bulbs for dimmable, non-dimmable or Hue lights without needing to rewire everything.
It is a great way to play around with the lights in your house and step by step upgrade your lamps and Homey flows. The main drawback is that it is not a very refined system. It is a bit bulky, the gap in the middle is not very pretty and it requires a hammer to help with the tight fits.
If you are moving or if you want to upgrade your lighting, I can recommend this, or other group system. I know there are more rail systems with groups, but they can be hard to find as they are not well advertised. Ikea is always a budget contentious choice and easy to get your hands on. The possibility to play around with your lights and scenes using various types of lamps is great to have.