Home
›
Archive
Wake-up interval Aeotec MultiSensor 6
DaneeDeKruyff
Member
On Slack we were talking about Wake-up interval and how to use it for sending information to Homey without using the Reporting Interval. This is usefull when running the Aeotec Multisensor on batteries because the lowest possible Reporting Interval is 1 hour.
So here's how I configured it in order to get updates when the luminance changed more the a set threshold: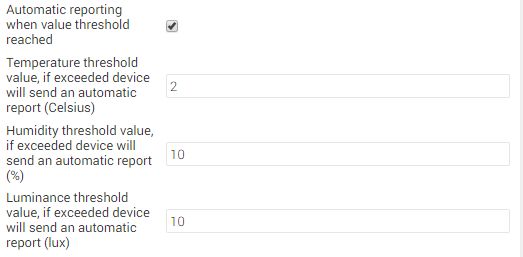 I've enabled Automatic reporting and set the Luminance threshold value to 10.

(I've also entered the RAW Configuration Parameters because at earlier firmware the UI settings did not give the desired result but the RAW settings did, I am not yet sure if the UI settings work good now will test that thoroughly when I find some time.)
I've set the Wake-up Interval to 600 so the values are measured every 10 minutes and compaired to the previous value. If the change in a value exceeds the configured threshold, 10 for the Luminace as set in the Luminance threshold field, the value is reported to Homey.
This is the result:

You can see a value was reported at 2:55 and again at 3:05. The next value wasn't reported untill 3:25 because the luminance change wasn't enough to report earlier.
The benefit from this all is that data is not sent at a specific interval, but only if it is important enough to send, thus saving battery power.
This discussion has been closed.