Home
›
Archive
[Android] Spotify Deezer Sonos Multiroom Homey workaround
Hi I thought I should share this with the community. I managed to let Homey start my Deezer / Spotify playlist and stream everything to my multiroom chromecast.
Its a little bit of DIY but most of you should have the requirements already at home.
What you need:
Homey, Android-Tablet and some Apps (Price: Free-3,56€)
Apps you need:
- Secure Settings (Free)
- IFTTT (Free)
- Tasker (2,99€)
- AutoRemote (3,56€)
- AutoInput (1,79€)
Note: All of the paid-apps have a free Trail.
And of course a Audio output. I used my Chromecast-Audio but you can use everything that can be streamed to by your Tablet.
How To:
1. Connect Homey to IFTTT
(
https://forum.athom.com/discussion/620/tutorial-ifttt-for-homey
)
2. Connect IFTTT to Tasker(Tablet)

I found this nice guide:
https://www.reddit.com/r/tasker/comments/3arbeh/how_to_hookup_tasker_to_ifttt_using_autoremote/
You should ignore the part with the Variables/Ingredients in the IFTTT Recipe and also use only the Messagefilter in the AutoRemote Tasker trigger (no need for "comm params" or "command")
It should look like this on IFTTT: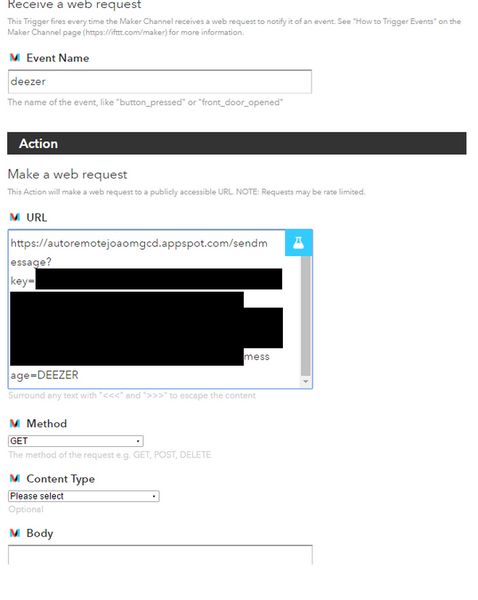 So I used "DEEZER" as word for the Messagefilter in my AutoRemote Profile.
3. Create Tasker-Task that starts the Music

I found this tutorial very helpful: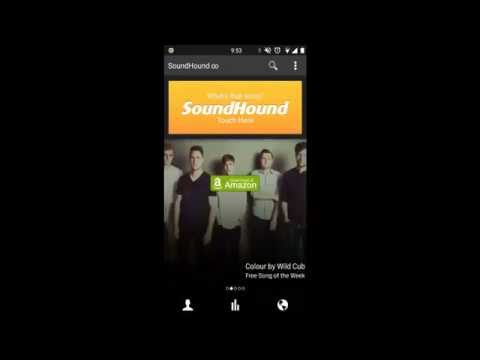 My Tasker-Task looks like this: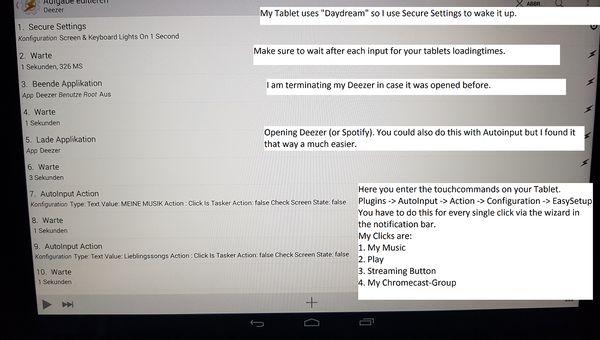 4. Create Flow

Just create a flow, e.g. triggered by voice ("music") that IFTTT a "deezer"-event.

Done


This is just an basic example, you can use this for many cases or even do more specific (e.g. let your tablet open voice search for music title and search for it). I have a wallmounted Tablet that recieves these orders but you can use your smartphone, too(make sure you are not interrupting the commands with clicks).
Instead of the Chromecast group you could use a simple bluetooth-speaker, you just have to alter the AutoInput "Clicks"
I have 2 Flows, one showed above and one just for clicking the Play/Pause.
I will upload a video with this Flow later
This discussion has been closed.