Home
›
Apps
[UPDATED V0.0.2]Pushalot notification
Pushalot Notifcations
At the moment I'm working on a Pushalot notification app, this app will let you send notifications from Homey to your Windows Phone or Windows 8.1 & 10 pc.
I'm converting my Pushover application that already is in the app store to work with Pushalot.
The app will have 3 options: Normal (sends a normal notification), Important (Give notification importance status) and Silent (Will send a notification but won't trigger a sound)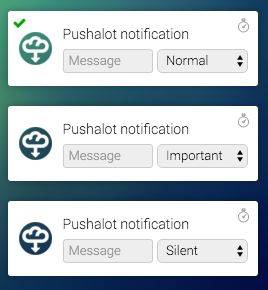 Current version: V0.0.2
This thread can be used for support when the app is released.
Special thanks to:

Dennis Timmerman
https://www.npmjs.com/~dennistimmermann
for the node module
MatjaLipu
for helping with error checking