Home
›
Archive
Request: Give Dimmers also an on/off button for more convenience
Dimmers (at least the BeNext wallplug I tried) only shows a 0%..100% bar to control the amount of dimming.
I _really_ miss the on/off button that VeraEdge also puts on it. That has two big advantages: #1 much easier to enable/disable with one click #2 you can then set it back to the "remembered" %, instead of having to slide to the right place #3
My request is to add an on/off switch to Homey dimmers. Thx for reading and considering this! Keep up the good work!
Homey:
VeraEdge: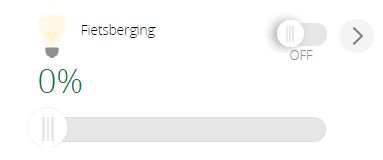 I think people migrating from HC2/Vera will certainly miss this switch.
This discussion has been closed.